The meeting of the first days after Lunar new year 2020
Thursday - 13/08/2020 04:23
Joining the nation's spring atmosphere, on the morning of January 30, 2020 (that is the 6th of Lunar New Year), QuangNinh University of Industry organized a program to meet early in the spring of Canh Ty 2020. This is an annual activity. and has become a fine tradition for the school when spring festival comes.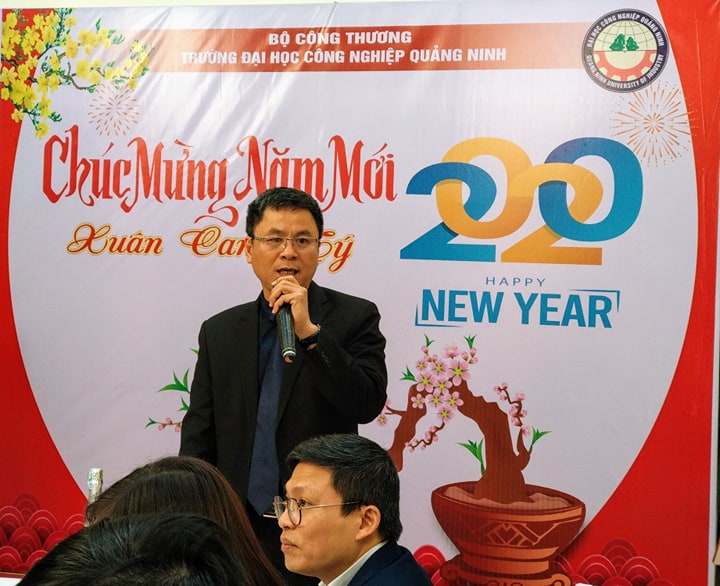 At the meeting were Dr. Hoang Hung Thang - Secretary of the Party Committee, Rector of the school and comrades in the Party Executive Committee, Board of Rectors, Executive Committee of Trade Union, Youth Union; Secretaries of the Party cells, Head and Deputy of Faculties, Presidents of the Trade Unions of faculties together with all other staff of the University. 
Speaking at the meeting, Dr. Hoang Hung Thang - Secretary of the Party Committee, Rector of the school wishes the health and prosperity of the new year to all staff
and their family. He also expressed thatthanks to the unanimous consensus of officials and the Labor Union, the school has achieved remarkable achievements over the past year.He also hopes that each officer and the labor union will make more efforts to strive and unite to complete the tasks, the set goals and create a breakthrough in all activities of the school in the new year.



   At the meeting, the Board of Rectors, the Trade Union also gave lucky money to each employee with the wish of a new year of health, happiness and success. In the joyful atmosphere, the representatives of the training faculties and professional administration sent good wishes to the leaders of the school, promising to resolve the solidarity to achieve goals and missions set. 



   The meeting took place in a warm and exciting atmosphere with full hope for a new year. Everyone happily joined in music performances, enthusiastically participated in democratic flower picking ... Each person can feel the joy and cohesion among the members of the "common house" – QUI.